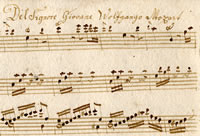 Musicologist Dr. Hildegard Herrmann-Schneider found a previously unknown sonata by Wolfgang Amadeus Mozart in the attic of a brass band leader's home in the Lech Valley of the Austrian Tyrol. The brass band leader had an extensive music collection, so after his death Dr. Herrmann-Schneider of Innsbruck's Institute for Tyrolean Music Research was hired to inventory and evaluate the collection for the estate.
She identified a number of music manuscripts and printed sheet music ranging in date from the late 18th century to the mid-20th century. One of the artifacts that caught her eye was a hand-written notebook of music for piano labeled "Johannes Reiserer, Sterzing 1780" on the back of the cover. There are over 160 pages of music within, copied works by composers from the area or just adjacent to it (northern Italy, Austria, Bavaria) who wrote them around the time of the 1780 cover date. Each work is labeled with the name of the composer and their professions, and they're all accurate.
On pages 12-14 is a sonata tempo marked "Allegro molto" and attributed as "Del Signore Giovane Wolfgango Mozart," meaning "By Young Mister Wolfgango Mozart." The work does not appear in the Koechel catalogue, the authoritative directory of Mozart's music, nor has it been documented in correspondence or any other written sources from the era. Dr. Herrmann-Schneider knew it was written in Mozart's hand or in his father Leopold's, but several pieces of Leopold Mozart's music are also in the book and they are properly attributed as "Del Signore Mozart," "By Mister Mozart."
The accurate authorship attribution of the father's work lends some credibility to the attribution of the son's, and the peculiar "Wolfgango" phrasing also suggests a link to Leopold Mozart. Leopold personally called his son "Wolfgango" when writing the author note on the manuscripts of two of Wolfgang's minuets and on the title page of the 1764 London Sketchbook, as do writers closely associated with Leopold from the 1760s.
Dr. Herrmann-Schneider researched Johannes Reiserer, the name on the cover, and found a Johannes Reiserer born in 1765 in Tyrol. The son of a doctor, young Johannes went to high school in Salzburg where he sang on the city cathedral choir from 1778 to 1780. He stayed in the Kapellhaus — a dormitory for boys who sang in the Salzburg Cathedral's choir — which had famous composers and musicians on staff. One of them was Leopold Mozart.
Researchers have thus concluded that Johannes Reiserer used the notebook to copy compositions as part of a rigorous program of music instruction by Kapellhaus music masters, perhaps Leopold himself. The attribution of the sonata to the Young Wolfgango, therefore, seems on fairly solid ground.
Here is a snippet of the piece as played by Florian Birsak on Mozart's piano at the home the family moved to when he was 17. The BBC article has video of Mr. Birsak's playing.
Download